In Motion at Denbigh, Newport News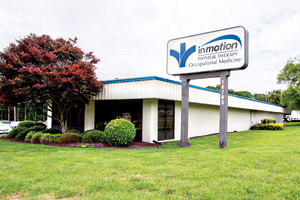 In Motion at Denbigh
14703 Warwick Blvd., Suite B
Newport News, VA 23608
Phone: (757) 947-1230
Fax: (757) 886-6005
View map and get directions.
Hours
Monday: 9 am to 7 pm
Tuesday: 9 am to 6 pm
Wednesday: 8 am to 5 pm
Thursday: 9 am to 6 pm
Friday: 7:30 am to 3 pm
Closed Saturdays and Sundays
Convenient before and after work or school appointments.
On Warwick Blvd. in northwestern Newport News, within minutes of Fort Eustis, this site serves patients' physical therapy needs and Bon Secours occupational health programs and has extensive worker's compensation programs.
In Motion at Denbigh operates as a department of Mary Immaculate Hospital.
Additional physical therapies or special programs:
Insurance Information
We accept most insurance plans and HMO's. Please call to find out if our practice is a provider of your insurance plan. For your convenience, we will be happy to file your insurance claim.
Save time and organize your important health information before you arrive. For your convenience, we provide basic forms, please complete them before your visit and bring them with you to your first appointment.
Success Stories
"I have suffered from back pain for 28 years and have had two back surgeries. In Motion has taught me to use breathing, stretching, and exercising to improve my posture and reduce pain. Thank you Anette and team."  Deanna
"I am so blessed to have had a team like the one at In Motion. They push you to make your body respond and no matter how much you complain they keep pushing (Thank God). I came in with pain & exiting with no pain. Thanks to Anette, James & Monica."
"All the staff at In Motion was professional & proficient from the front desk to the therapist. Appointments were made with the patients in mind. The therapist were very knowledgeable of what kind of therapy was needed to aid in recovery & better movement. They took time to explain what they were doing & how it would help."
"Anette saved me. In 4 short weeks I learned how to exhale & mobilize my ribs. I now continue to improve with great improvements on raising my arms, twisting & touching my toes. I am also stronger, I feel like  my age again. Thank you!"  AC
 "When I first started coming to In Motion I was a bit skeptical about doing the exercises. I thought it would harm me, I was wrong. After a year of physical therapy I have come to realize that it was all worth it. I have to say thank you to the entire staff at In Motion for putting up with me. Everyone has always made my visits comfortable and always gave great service."  Rosalind
Staff
Jillian Howe, MS, CCC-SLP
Program Manager
Anette Brinkley, PT
Clinical Coordinator, Physical Therapist