SMART Balance Master® System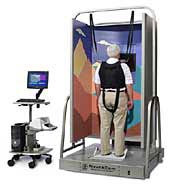 The Lotus Exige S 240 and the SMART Balance Master®  used by Bon Secours In Motion to assess and treat balance disorders have quite possibly only one thing in common, their cost.
In the interest of providing its patients every tool that will help them to regain skills, including technology, Bon Secours In Motion has two of them. The Balance Master®, used at the Bon Secours Physical Therapy DePaul and Harbour View physical therapy sites, assist patients' vestibular rehabilitation and has a few bells and whistles of its own.
Stepping into a contraption that is closed on three sides and is the size of a shower, the patient is fitted with stabilizing straps that will keep them from falling. The patient faces forward. At eye level, there's a screen that displays a horizon. They stand on a support surface that can be programmed to move in response to, and as a result of, the patient's own movements. It can also be programmed so that the surface moves in response to them, but with a degree of surface movement that varies each time they move.
The final challenge is movement that is computer driven and is completely unpredictable so that the patient is constantly adjusting their balance in response. The work that patients do while using the Balance Master retrains their body's balancing mechanisms in a way that's safe, a little challenging, and clinically proven.