Yorktown Physical Therapy Clinic
In Motion at Victory YMCA is a department of Mary Immaculate Hospital
In Motion at Victory YMCA

101 Long Green Blvd
Yorktown, VA 23693
Phone: (757) 952-1900
Fax: (757) 952-1911
View map and get directions.
Hours
Monday – Thursday: 7:30am-7:00pm
Friday: 7:30am – 4:30pm
Earlier and later appointments may be available upon request.
Closed Saturdays and Sundays
Convenient to Poquoson, Newport News and Hampton, In Motion at Victory YMCA is a stellar community fitness facility with 25m pool and state-of-the-art cardio and fitness equipment. In Motion's physical therapy programs have their own space with separate entrance that's well marked and easy to use.
In Motion at Victory YMCA operates as a department of Mary Immaculate Hospital.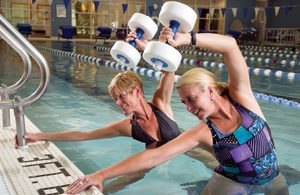 Additional physical therapies or special programs:
Fibromyalgia Program
Sports Specific Rehabilitation
Direct Access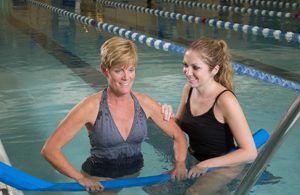 In Motion physical therapy is now offering Direct Access. Our Direct Access program allows certified physical therapists in Virginia to evaluate and treat anyone with an injury without the necessity of a referral from a physician. For more information regarding direct access please click here.
Insurance Information
We accept most insurance plans and HMO's. Please call to find out if our practice is a provider of your insurance plan. For your convenience, we will be happy to file your insurance claim.
Save time and organize your important health information before you arrive. For your convenience, we provide basic forms, please complete them before your visit and bring them with you to your first appointment.
Success Stories
"Everyone here is very kind and helpful. They really worked well with me to correct any major muscle problem. Great work guys!"  Tim
"This is my 3rd time facility for therapy. Everyone was very nice & I felt that they really took an interest in my condition. My experience at In Motion was perfect. I learned a bunch and improved my stretching and work outs!"  Jane
"The therapists at In Motion are very professional and knowledgeable of my condition. I chose this facility because of previous treatment here. Loved the friendly, caring therapists. The entire staff is just wonderful. I would heartily reccomend this facility to a friend"
"Everyone on this staff were always very, very nice and patient! My first therapist (aqua) got me started and moving really well and Kim  finished me up really well. My neck is feeling better! Fibromyalgia is another story-I know I need to keep moving!! Thank you everyone for your help!
Staff
Jillian Howe, MS, CCC-SLP
Rehab Manager
Danny Parker, DPT
Clinical Coordinator, Physical Therapist
Stephen Cox, DPT
Physical Therapist
Michael Klein, DPT
Physical Therapist