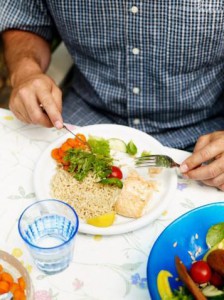 Americans face a 40 percent risk of developing type 2 diabetes during their lifetime, a new federal study shows.
But they may be able to lower that risk by seeking nutritional counseling that includes how to make lifestyle and dietary changes from a Registered Dietitian, according to the Academy of Nutrition and Dietetics.
"Health professionals are in agreement that nutrition services are one of the first treatments individuals should receive to improve conditions such as diabetes and its related complications," said registered dietitian nutritionist and Academy Spokeswoman Angela Ginn.
The study, conducted by researchers at the Centers for Disease Control and Prevention found that two out of every five Americans are expected to develop type 2 diabetes during their lifetime.
"As the number of diabetes cases continue to increase and patients live longer, there will be a growing demand for health services and extensive costs," said Dr. Edward Gregg, study leader in a CDC news release. "More effective lifestyle interventions are urgently needed to reduce the number of new cases in the USA and other developed nations."
For people who have been diagnosed with diabetes, a Registered Dietitian can help create an eating plan that's individually tailored, Ginn said in an Academy news release. It can take into account a person's weight, medications, lifestyle and other health problems.
"Research has shown that weight loss through moderate diet changes and physical activity plays a significant role in reducing a person's risk of diabetes and its complications such as heart disease, stroke, kidney disease, blindness, nerve damage and other health problems," said Ginn, who is also a certified diabetes educator. "A registered dietitian nutritionist is one of your best resources for developing a plan to make these lifestyle changes."
RDNs often work as part of a medical team, in many practice settings, such as hospitals, physician offices, private practice and other health care facilities. Thankfully, medical nutrition therapy provided by an RDN is covered by numerous insurance plans including Medicare Part B.
"Check with your insurance plan for specific medical nutrition therapy coverage details. Your plan may cover nutrition counseling for chronic conditions and health concerns like diabetes and prediabetes. Together with a registered dietitian nutritionist, you can set nutrition goals to improve your health," Ginn said.
+ Have you been recently diagnosed with type 2 diabetes or are at risk for this chronic health condition? Try Individual or Group Counseling at Bon Secours In Motion Physical Therapy and Sports Performance to learn how healthy strategies can help people living with diabetes.