Cancer Rehabilitation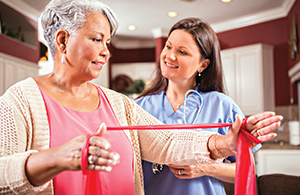 Fighting cancer is hard work. It can take a toll on your body and your spirit. The Bon Secours outpatient cancer rehabilitation program can help you optimize your health and minimize side effects. We emphasize a team approach, working closely with all of your oncology providers to help you reach your goals.
How We Can Help
Our compassionate care helps patients deal with the challenges cancer presents, both during and after treatment.
Our customized treatment programs address a wide range of symptoms, such as pain and fatigue, and side effects from each type of cancer and cancer treatment.
Our experienced team of physical, occupational and speech therapists focus on improving quality of life and daily function for all cancer survivors.
We utilize the most current scientific and clinical evidence to design each patient's treatment plan.
Our team coordinates treatment interventions around chemotherapy, radiation and surgeries.
Interventions are designed to address the side effects of cancer and cancer treatment, including:
Pain
Fatigue
Joint stiffness
Swelling
Weakness
Decline in balance
Difficulty with walking
Scar tissue restriction
Bowel and bladder dysfunction
Numbness in feet or hands
Difficulty swallowing
Difficulty speaking
Voice disorders
Please contact the location you would like to attend to confirm we offer this program.