Pilates Rehabilitation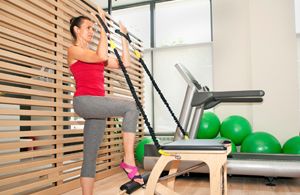 Pilates is a physical fitness system that emphasizes alignment, breathing, a strong core and improving coordination and balance. In physical therapy, Pilates is used to help re-educate the body for proper movement in normal, everyday activities including prolonged sitting. Our equipment-based method can be incorporated in treatment as an additional intervention in the patient's overall care. The goals of the program are to enhance therapy, especially for increasing range of motion, building strength, and restoring healthy postures.
Common Conditions That Benefit From Pilates
Degenerative Disc Disease
LBP
Scoliosis and other spinal deformities
Neck and back pain
Rotator Cuff Tendonitis
Subacromial Bursitis
Shoulder sprains and strains
Trochanteric Bursitis
Arthritis
Ligament sprains/strains
Ankle sprains/instability
Flat foot deformity
Sacroilliac Dysfunction
Piriformis Syndrome
IT Band syndrome
Goals and Benefits
Pain reduction
Improved coordination
Increased strength
Efficient movement
Restoration of natural movement
Restore healthy posture
What to Expect
Dress comfortably for each visit – fitness clothing is best. Avoid restrictive, tight clothing as it impedes movement that can impact the results of the movement analysis conducted.
The therapist will perform a 45-60 minute therapy evaluation and treatment session to assess static and dynamic postures, functional movement capability, and impairments.
Most patients attend 2-3 treatment sessions per week that may include traditional exercise, manual therapy techniques, soft tissue mobilization, and Pilates equipment work.
In addition to regular therapy sessions, a home exercise program will be provided for maintenance between sessions.
Please contact the location you would like to attend to confirm we offer this program.