Total Joint Replacement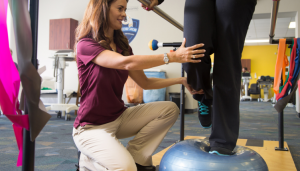 More than 500,000 total joint replacements are performed each year.  While there are many reasons to perform a total joint replacement it is most commonly done to relieve the debilitating pain associated with severe arthritis.
To achieve the best outcomes it is imperative to work with a company that has experience and advanced training in the treatment after total joint replacements.  Bon Secours In Motion Physical Therapy prides itself on their expertise in orthopaedic rehab after total hip, total knee and total shoulder replacements.  Using custom programs designed for each patient as well as a hand on approach Bon Secours In Motion Physical Therapy can help speed your recovery and maximize your outcomes.
After a comprehensive evaluation, your therapist will develop a comprehensive treatment program to assist you with the following:
Pain management
Range of motion
Strength training
Balance training
Use of assistive devices
Proprioception (position sense)
Scar management
Resuming functional activities including sports, gardening, household chores, and any most other activities you enjoyed prior to surgery.
You have a choice in where you attend physical therapy and we want you to choose us! For more information, please contact one of our In Motion Physical Therapy Clinics.