Postural Restoration (PRI®)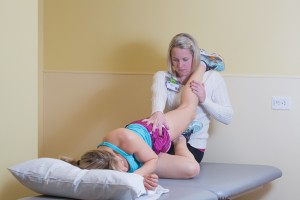 Each individual has some asymmetry in their bodies — the neurological, circulatory, and respiratory systems are just not the same on both sides of the body, and this is perfectly normal. But dominant overuse of the muscles on one side of the body can cause structural weaknesses, pain, and instability, and it can have an overall negative impact on your body's nerve and muscle functioning.
Postural Restoration (PRI®) helps to correct and compensate for these asymmetries and overuse so that you can enjoy your full level of activity, avoid pain, and prevent further injury in the future. Postural Restoration is a physical therapy treatment that focuses on identifying and correcting common postural problems. Treatment can include specific exercises, manual adjustments, and individualized recommendations for how to sit, stand, and move.
You may benefit from PRI® therapy if you suffer from chronic neck and/or shoulder pain, headaches or jaw pain, recurring spasms or tension in a specific part of the body, pain in the lower back, tendonitis, or bursitis. Postural Restoration has helped many patients increase their mobility and flexibility, improve spinal stabilization, strengthen the core, decrease chronic pain, and improve athletic performance.
For more information on The Postural Restoration Institute® (PRI), click here.
Our Locations
In Motion at Harbour View
Bon Secours Health Center at Harbour View
Medical Arts Building
5838 Harbour View Blvd
Suffolk, VA 23435
(757) 673-5971
View map and get directions.
In Motion at Mary Immaculate
Bon Secours Mary Immaculate Hospital, Health Resource Center
2 Bernardine Drive
Newport News, VA 23602
Phone: (757) 886-6480
Fax: (757) 886-6077
View map and get directions.
In Motion at Boo Williams Sportsplex
Boo Williams Sportsplex
5 Armistead Pointe Parkway
Hampton, Virginia 23666
Phone: (757) 224-4601
Fax: (757) 224-4618
View map and get directions.