Golf Rehabilitation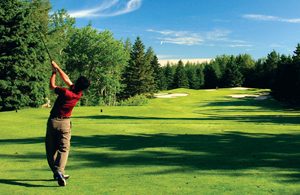 Have you been experiencing pain during your golf swing? Has your score increased? Or even worse, are you no longer able to play golf due to an injury?
Bon Secours In Motion Physical Therapy's golf rehabilitation program is designed to help you feel and move better so you can get back on the course and play pain-free.
The program is designed to treat each patient individually based upon his or her specific injury and movement abilities. It benefits anyone experiencing pain or stiffness during his or her golf swing. In this program, physical therapists with advanced training and certified by the Titleist Performance Institute (TPI) provide you with the following:
Titleist Performance Institute movement assessment. This is an analysis of your stability and mobility in key areas that affect your golf swing, including mechanical inefficiencies that can lead to injury as well as reduced performance.
Golf swing analysis.
Determination of the Body-Swing Connection™ by utilizing both the TPI Movement Assessment and swing analysis.
Custom exercise program to improve your specific movement and swing limitations.
Ask your doctor to refer you to Bon Secours In Motion Physical Therapy.

19 easily accessible locations across Hampton Roads.
Early morning and evening appointments.
Patients seen within 24 to 48 hours.
All major insurance plans accepted, including Tricare, Medicare, Medicaid, Aetna and Optima.
We accept most insurance plans*
Scheduling patients is easy and convenient. Have your physician call or fax the referral to the location most convenient to you. Our friendly office staff will assist with scheduling so you can be seen within 48 hours. We will help you with insurance authorizations. A personalized patient plan of care will be faxed to your physician's office after the first evaluation has taken place. Progress notes are sent before your next visit to your doctor.
*Please visit BonSecoursInMotion.com for the full list of accepted insurance plans.
Our Locations
In Motion at Town Center
4677 Columbus St. Suite 201
Virginia Beach, VA 23462
Phone: (757) 463-2540
Fax: (757) 463-2554
View map and get directions.
In Motion at Harbour View
Bon Secours Health Center at Harbour View
Medical Arts Building
5838 Harbour View Blvd
Suffolk, VA 23435
Phone: (757) 673-5971
View map and get directions.
In Motion at Chesapeake Square
2613 Taylor Road, Suite 102
Chesapeake, VA 23321
(757) 465-7651
Fax: (757) 465-1428
View map and get directions