Back to School Body Care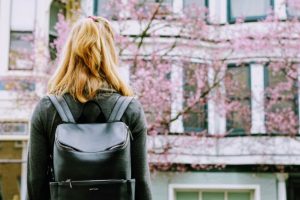 Class is once again in session, and with it brings new opportunities to learn and socialize with friends missed over the summer. The first month of the school year requires adjustment on many levels, and for many that includes injury prevention.
Going back to school doesn't necessarily have to mean going back to "the grind." Sprains and strains are common among young and adult students during the school year. Teachers and volunteers with joint and back issues should also take care. Maintain peak physical health to aid your mental acuity for a successful school year. Here are a few tips to consider before the first bell rings.
Get Ergonomic
Hand and wrist injuries happen often at school. Neglect of care while writing and typing, particularly where posture is concerned, may increase risk of aches and even carpal tunnel syndrome. Where permitted, consider investing in ergonomic writing equipment to allow for comfort during school and homework.
Wrist pads for use with the laptop, soft grippers for pens and pencils, and ergonomic mouse devices may provide relief. When it's time for homework, practice good sitting posture at home with a comfortable chair. Adjust your laptop screen settings for brightness or use a screen to filter bright lights and reduce eyestrain. 
Backpack Care
With some schools eliminating lockers, students must carry nearly everything for school on their backs. The U.S. Consumer Product Safety Commission reports that injuries and accidents related to heavy backpacks send an average of 5,000 students to the ER annually. Over time, shoulder and back pain can become an issue.
While backpacks are a necessity, one can take measures to alleviate discomfort and pain. Take care when packing heavy books by placing them in the center of the pack. Use a pack with ergonomic shoulder straps. A chest strap is also helpful for support. Don't overpack a bag; carry some books if necessary. If walking to and from school, take occasional breaks to give your back a rest.
Good Nutrition
It's important to keep up your energy levels throughout the day. If allowed in class, keep a water bottle on hand to stay hydrated. Packing a lunch may also help with your overall health as well, as you can regulate sodium and sugar content and keep ingredients that cause allergies and flare ups to a minimum.
Physical therapists at Bon Secours In Motion provide assistance to patients in need of pain relief associated with back, neck, and wrist pain. Contact us today to learn more about our comprehensive programs.