Fighting Childhood Obesity with a Youth Weight Loss Program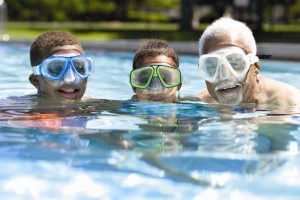 With the growing number of obese children, it's more important than every to get overweight children involved in physical activities and nutrition. In response to Hampton Road's need for a children's health program, In Motion has developed a Youth Fitness Program designed to meet the unique needs of kids.
Our program encourages kids to be physically active every day and eat a balanced diet of fruits, vegetables and grains (while eliminating poor food choices) . The focus is on the benefits of proper nutrition and exercise for life, not the typical quick weight-loss program. We work to equip youth clients with the tools they need for life-long weight management. Other program highlights include:
Supervised Athletic Training –  Resistance training, cardiovascular training, and interactive games. Trainers also teach fun home exercise ideas to help kids achieve their recommended daily activity level.
Nutritional Guidance – A complete nutritional evaluation with a registered dietitian and a personalized eating plan based on your child's  lifestyle, activities, nutritional needs, and food preferences.
Ongoing Support and Education – We work together with our clients and their parents/caregivers to establish healthy eating habits and attitudes toward food and exercise for a lifetime.
Our Staff
The staff involved in our youth fitness program are qualified fitness professionals and clinicians with a solid educational background. They work with all our Fitness Program participants' parents to help them support and encourage their children through the program.
Youth Fitness Programs
Are you worried about your child's weight or physical health? At In Motion, we provide children with the opportunity to learn how to have a healthy lifestyle. Our Youth Fitness program promotes physical fitness and nutritional education in a safe and fun environment. The team of experienced sports performance specialists, physical therapists, athletic trainers, and nutritionists have the training and expertise necessary to help young kids achieve their health and fitness goals.
We also work with local schools in Hampton Roads to help educate children about the importance of making healthy decisions and getting active. If you're interested in bringing an In Motion specialist to speak at your school, contact us!