How Golf Rehab Can Help Dad Improve His Swing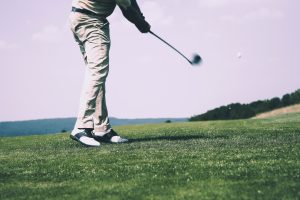 This Father's Day, help Dad get what he really wants—a few points off his score.
Golf rehabilitation, a special form of physical therapy, focuses on improving the technique and strength of golfers of all levels, from the casual weekend player to professionals. At Bon Secours In Motion, our Titleist Performance Institute-certified physical therapists design individualized plans to help any golfer shine on the course. Golf rehabilitation includes:
Titleist Performance Institute Movement Assessment
Any good plan starts with determining the mechanics of how you move. The Titleist Performance Institute assessment looks at your mobility, stability, and flexibility throughout your swing, identifying areas of improvement. Your physical therapist will use this assessment to create an individualized plan for your rehabilitation program.
Golf Swing Analysis
Our physical therapists perform additional swing analyses, carefully watching your coordination and technique. Even minor problems with your swing can take yards off your drive—and put you at risk for back, elbow, or shoulder injuries. By making small changes, you can have a big effect on your game and your health.
Customized Exercise Program
Your customized exercise program will focus on both technique and strength. It may include home exercises and exercises you perform during your appointments. These exercises may look at strengthening your core, improving the flexibility of your back, or getting your swing better coordinated. Your exercise program may include:
Strength or weight training designed for golfers

Stretches to increase flexibility and prevent injury

Exercises to increase swing coordination
Your program will even focus on posture while not at the tee, including how to properly carry your clubs or line yourself up to putt.
Injury Prevention or Treatment
If you have recently suffered a golf injury, your program will first focus on healing your injury and getting your strength back. Our therapists may give you exercises to perform or use massage or hot/cold therapy to ease pain. Most importantly, you'll need to rest and take a break from golf to allow your body time to heal.
Even if you have never suffered an injury, your program will include exercises and techniques to prevent injury in the future. Injury prevention relies heavily on proper coordination and control of your swing. Our experts will ensure you have great technique that doesn't put your muscles or joints at risk.
Improve your golf game today. Contact Bon Secours In Motion to start your golf rehabilitation program.