Keep On Moving!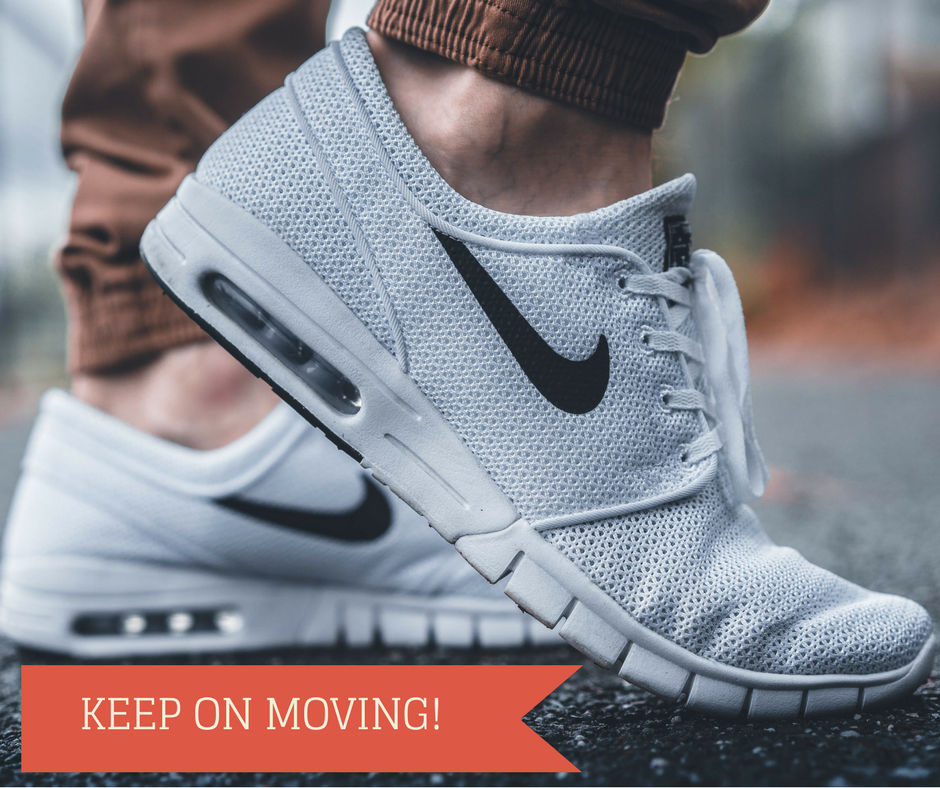 In years past, on the first Wednesday in April, the American Heart Association promoted National Walking Day as a means to create awareness for regular physical activity to improve health. Presently, the AHA has upgraded this concept into "Move More in April," which encompasses other ways to get the blood pumping – whether it's running, cycling, or any other sport. Nonetheless, we at Bon Secours In Motion encourage everybody to set aside time each day to get out of the office, or off the couch, and take a walk.
One Small Step…
Walking is perhaps one of the easiest ways to improve your health. Walking doesn't require a fitness club membership or expensive equipment and you can do it any time of day, alone or with friends and family. Whether enjoying a stroll along the Oceanfront or down any Hampton Roads area nature trail, you begin to develop better health habits by adding a walk into your daily routine. Consider the benefits of a thirty-minute outing:
You can burn up to 200 calories. If you've set a weight loss goal for the year, you can gauge how much time you need to spend on the trail or track to work off meals.
You can reduce the risk of stroke. When you move, you set your circulation in motion. Thirty minutes a day can improve your blood flow and, according to studies at University of Tennessee and University of Colorado Boulder, lower the chances of stroke by as much as 20 percent.
You'll stay sharp and focused. Walking may not make you smarter, but as your body's circulation gains momentum it affects the blood flow to your brain, increasing your mental awareness.
You'll stay regular. The more you move, the better your digestive system functions. It's always good to enjoy a walk before a meal. Not only will you build an appetite, you'll help the food along afterward.
Now that you have the motivation, it's time to move. Before you begin your walk   , though, take a few "steps" to ensure you remain safe and at low risk for injury.
Check your shoes. Wear comfortable athletic shoes suited for exercise walking, a pair that fits well and won't pinch your feet.
Plot your course. Know where you plan to walk, whether it's a school track, park trail, or around your neighborhood. You'll need to watch for obstacles that could slow your pace or cause you to trip.
Warm up. This is important especially if you haven't walked for exercise in a while. A few minutes of muscle stretching can help prevent cramps and other discomfort down the road.
Stay hydrated. Take a water bottle with you. Even if you go out on a cloudy day, you need to quench your thirst as you walk.
Lastly to consider is setting S.M.A.R.T. goals – if you are just getting back into exercise it's important to set Specific, Measurable, and Attainable, Realistic, and Timely (SMART) goals.  Each small goal achievement will keep you motivated and help you progress the distance covered or pace each week.
Today may no longer be officially called National Walking Day, but it's the perfect time to remind ourselves to get up and move. When the job and other stresses of the day become too much to bear, go for a walk and clear your body and mind.
–
Sources: http://www.arthritis.org/living–with–arthritis/exercise/workouts/walking/wow–of–walking.php
http://www.prevention.com/fitness/benefits–walking–every–day
http://www.mayoclinic.org/healthy–lifestyle/fitness/in–depth/walking/art-20046261