Losing Weight: Small Amount Equals Big Benefit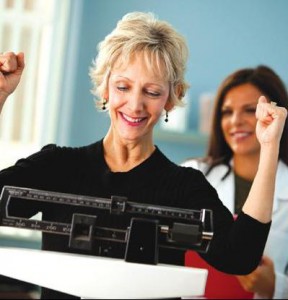 When it comes to losing weight, it doesn't take dropping a significant number of pounds to start improving your health. In fact, a new study shows that losing as little as 5 percent of body weight can make a big difference in the health of people who have obesity.
And while shedding additional pounds improved metabolic health, losing just 5 percent was enough to reduce multiple risk factors for type 2 diabetes and coronary heart disease.
"These results demonstrate you get a large bang for your buck with a 5 percent weight loss," said senior study author Samuel Klein of Washington University School of Medicine. Klein said he hopes the findings of the study will will serve as a motivating force to help people achieve manageable weight loss goals.
"Our findings show that even a small amount of weight loss has important health benefits for multiple organ systems," he says. "We hope that these findings will encourage obese people to take reasonable steps to watch what they eat and increase their physical activity, because this will translate into a lower risk for diabetes and heart disease."
Losing Weight Improves Health
For people who often depressed about losing weight, it's important news. It's also significant for the millions of Americans who are overweight or obese and in the process of losing weight. Obesity is a major risk factor for a number of chronic diseases including cancer, heart disease and type 2 diabetes. Although successful weight loss programs should always meet an individual's specific needs and goals, many treatment guidelines recommend people lose 5 to 10 percent of their body weight to improve their health and metabolic function.
All of the people in the study,  published recently in Cell Metabolism, had signs of insulin-resistant glucose metabolism, which is a major risk factor for type 2 diabetes. When blood glucose levels rise after a meal, beta cells in the pancreas release a hormone called insulin into the blood, stimulating muscle, fat, and liver cells to take up the excess glucose. But in individuals with insulin resistance, glucose builds up in the blood instead of being absorbed by the cells, increasing the risk of type 2 diabetes.
Among the 19 individuals who lost 5 percent of their body weight, beta cell function improved significantly, as did insulin sensitivity in fat tissue, liver, and skeletal muscle. Meanwhile, the nine participants who achieved additional weight loss showed further improvements in beta cell function and insulin sensitivity in muscle tissue.
"Taken together, the findings show that 5 percent weight loss is sufficient to improve health outcomes, with additional weight loss further decreasing risk factors for metabolic and cardiovascular diseases," Klein said.
Source: Cell Metabolism news release
+ Do you have diabetes? Learn about the diabetes counseling program at Bon Secours In Motion. Our Registered Dietitians help people learn how to manage their diabetes through healthy eating and wise food choices.