Low-Back Pain Rx: Massage Therapy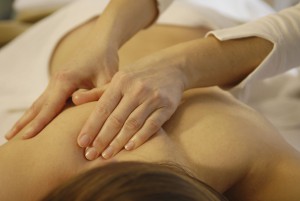 If you have low-back pain, don't be surprised if your doctor recommends getting a massage from a licensed massage therapist.
New guidelines call for massage and other non-drug therapies when it comes to treating people with certain types of low-back pain. The recommendation, which comes from the American College of Physicians, applies to people who have acute or subacute pain.
Low-back pain is one of the most common reasons people visit the doctor. One in four U.S. adults experience this type of pain at least one day in the past three months.
If your pain lasts less than four weeks, it's considered acute. Pain that goes on four to 12 weeks is subacute. Chronic pain is when it lasts more than 12 weeks.
The good news is that acute and subacute low-back pain usually gets better on its own. If you try massage, make sure you consult a licensed massage therapist.
If you have chronic low-back pain, the ACP recommends a number of options:
Non-drug therapy with exercise,
multidisciplinary rehabilitation,
acupuncture,
mindfulness-based stress reduction,
tai chi,
yoga,
motor control exercise (MCE),
progressive relaxation,
electromyography biofeedback,
low level laser therapy,
operant therapy,
cognitive behavioral therapy,
or spinal manipulation.
The guidelines do not apply to people who have injured their back or have pain radiating down their leg. If you have a back injury and feel numbness or muscle weakness, make sure to visit your health provider.
Low-back pain: Try massage therapy
All massages boosts the circulation of oxygen-rich blood, but there are many types and variations. At Bon Secours In Motion, clients can choose from the following types of bodywork:
Swedish – a classic therapy designed to relax muscles and stimulate circulation.
Deep tissue or trigger point –  uses vigorous techniques on muscles at a deeper level. It can help athletes and those who have muscle tension and soreness.
Sports  –  releases tight, overworked muscles by combining deep tissue and Swedish techniques.
Injury/rehab  – promotes healing, mobility and flexibility to injured muscle and tissue. It can reduce recovery time by improving circulation of blood flow to injured muscles.
Pregnancy – after the first trimester, a massage can help women relax and relieve strained muscles.
+ Massage therapy is one of the physical therapy programs at Bon Secours In Motion. Find a location near you to schedule an appointment.