Make the Most of Your Virtual Physical Therapy Appointment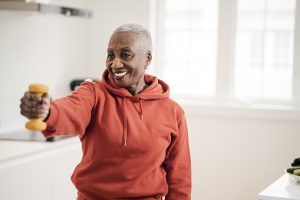 To help keep you safe during the COVID-19 pandemic, Bon Secours In Motion now offers online physical therapy appointments. You can get the help you need from the safety of your home. We can help you with a variety of therapies, including, but not limited to:
Muscle pain

Chronic pain, such as diabetic nerve pain

Sports injuries, like ACL tears

Therapy after joint replacement surgery

Balance and vestibular function issues

Incontinence and other pelvic health problems
To get the best out of your appointment, we recommend following these tips:
Get Your Physical Therapy Space Ready
The best place to take a virtual appointment is in a private room with a door so you won't be disturbed and can ensure your privacy. The room should also be quiet so you can focus on your therapy.
You'll need a good amount of space to move, about an eight to 10-foot square at least. Keep the space clear of cords, rugs or other tripping hazards as well as items that could fall on you.
If you use any equipment, like resistance bands or exercise balls, you should have those in the room with you and ready to use. You might also bring water in the room with you. 
Set Up Your Technology
If your connection doesn't work, your appointment won't work. Make sure your Internet connection is strong. Set up your computer, phone or tablet with a webcam at table height, pointing in the direction you will be standing in for therapy. Make sure the camera gets the best angle, which is likely horizontal and not vertical. Test that your microphone works and your volume is on.
Talk to Your Physical Therapist
Before starting virtual appointments, talk to your physical therapist about any concerns you have. They can help you understand what treatment you will still receive and if virtual appointments will work well for you. You might not benefit from virtual appointments if you need a lot of manual therapy or massage, for instance, or need to work in a pool. 
At Bon Secours In Motion, we are dedicated to keep all of our patients and employees as safe as possible. We are ready to work with you in whichever way you feel the most comfortable so that you can rebuild strength and heal well. If you are interested in virtual physical therapy, contact your Bon Secours In Motion location today to schedule your appointment.