Physical Therapy for Diabetic Neuropathy
If you have uncontrolled blood sugar for a long time, it can lead to complications of diabetes including peripheral neuropathy (nerve pain or numbness in your limbs, most often your legs or feet). 
Peripheral neuropathy can make it difficult to walk, causing a limp or putting you off-balance. Regular physical therapy can help you safely improve symptoms of diabetic neuropathy and offer benefits such as:
Reduced Risk for Falls
Your physical therapist can work with you to strengthen your legs and core as well as improve your coordination. With better strength, you are less likely to experience falls which can further damage your health and even put your independence at risk.
Improved Blood Sugar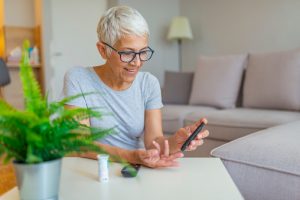 Regular physical activity and exercise helps your body better maintain and control blood sugar. Even just walking for 30 minutes a day can improve blood sugar, slowing or stopping the damage that causes neuropathy. Your physical therapist can create a personalized exercise program for you that is safe and effective.
You may also benefit from nutrition therapy to improve blood sugar control. At Bon Secours In Motion, we offer both physical therapy and nutrition therapy that are personalized to your needs. Our expert nutritionists can help you learn about how diet affects your blood sugar and help you take steps to better manage your health.
Reduced Pain
Exercise also releases chemicals called endorphins. Endorphins are the body's natural painkillers. The best way to release endorphins is during moderate aerobic activity such as swimming, biking or jogging. You can also use treadmills or ellipticals. You can work with your physical therapist to find exercises that are comfortable and fun for you.
Exercise also increases blood flow to your limbs. Better blood flow can help keep nerves healthy and improve feeling and function in your limbs.
Your physical therapist can also offer treatments such as transcutaneous electrical nerve stimulation (TENS) therapy. This therapy uses light electrical charges to disrupt pain signals from damaged nerves. Repeated TENS therapy may help you experience pain less frequently.
You can find your partner for better health at Bon Secours In Motion. Our physical therapists can help you create customized exercise plans that improve your health and fit well into your lifestyle. We strive to help you avoid further diabetic complications and keep you moving.
Take control of your diabetes and improve your neuropathy symptoms; contact Bon Secours In Motion today to schedule your first appointment.