In Motion at High Street, Portsmouth
In Motion at High Street is a department of Maryview Medical Center
In Motion at High Street 3300 High Street, Suite 1A Portsmouth, VA 23707 Phone: (757) 673-5689 Fax: (757) 673-5678 View map and get directions.
Hours Monday through Friday : 7:30 am to 6:00 pm Closed Saturdays & Sundays
In Motion at High Street in Portsmouth serves physical therapy patients from Portsmouth, Norfolk, Suffolk and western Tidewater. This convenient location is adjacent to Bon Secours Maryview, 10 minutes from Norfolk's Ghent neighborhood, and near to downtown Portsmouth, mid-town and Churchland. This site offers the latest physical therapy techniques, in addition to classic physical therapy and sports rehabilitation. Our convenient hours to allow appointments before and after work or school. In Motion at High Street operates as a department of Maryview Medical Center.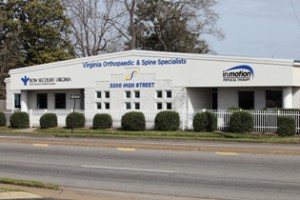 Additional physical therapies or special programs:
Dry Needling
General Orthopedics
Manual Therapy/Joint Mobilizations
Sports Rehab
Direct Access
In Motion physical therapy is now offering Direct Access. Our Direct Access program allows certified physical therapists in Virginia to evaluate and treat anyone with an injury without the necessity of a referral from a physician. For more information regarding direct access please click here.
Insurance Information
We accept most insurance plans and HMO's. Please call to find out if our practice is a provider of your insurance plan. For your convenience, we will be happy to file your insurance claim. Save time and organize your important health information before you arrive. For your convenience, we provide basic forms, please complete them before your visit and bring them with you to your first appointment.
Staff
Kate Jones, PT, CIMT, CMTPT
Rehab Manager, Physical Therapist
Bryan Christensen, LPTA, CSCS
Clinical Coordinator, Physical Therapist Assistant
Meredith Tice, DPT
Physical Therapist

Jaimie Pruitt, LPTA
Physical Therapy Assistant