In Motion at Downtown Suffolk
In Motion at Downtown Suffolk is a department of Maryview Medical Center
In Motion at Downtown Suffolk
1417 North Main Street
Suffolk, VA 23434
Phone: (757) 934-3366
Fax: (757) 539-2322
View map and get directions.
Hours
Monday: 7:00 am – 7:00 pm
Tuesday: 8:00 am – 7:00 pm
Wednesday: 7:00 am – 7:00 pm
Thursday: 8:00 am – 6:30 pm
Friday: 7:00 am – 5:30 pm
Closed Saturday and Sunday
In Motion at Downtown Suffolk serves physical therapy patients in Suffolk and western Tidewater. Therapeutic programs focus on classic physical therapy.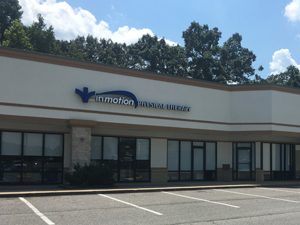 In Motion at Downtown Suffolk operates as a department of Maryview Medical Center.
Additional physical therapies or special programs:
Gait Training
Manual Therapy
Orthopaedic Rehabilitation
Sports Rehab
Direct Access
In Motion physical therapy is now offering Direct Access. Our Direct Access program allows certified physical therapists in Virginia to evaluate and treat anyone with an injury without the necessity of a referral from a physician. For more information regarding direct access please click here.
Insurance Information
We accept most insurance plans and HMO's. Please call to find out if our practice is a provider of your insurance plan. For your convenience, we will be happy to file your insurance claim.
Save time and organize your important health information before you arrive. For your convenience, we provide basic forms, please complete them before your visit and bring them with you to your first appointment.
Success Stories
"I appreciate your patience through all my questions and despairing moments.  You never gave up on me and my issues which caused me to feel the hope of recovery and growth.  I'm truly amazed at my results and look forward to my body learning all the new ways to function so I can really soar!"
Staff
Carl Bruno
Clinic Coordinator
Alexis Harper, LPTA
Physical Therapist Assistant