In Motion at Redmill, Virginia Beach
In Motion at Redmill is a department of Maryview Medical Center
In Motion at Redmill
Redmill Landing
1253 Nimmo Parkway, Suite 105
Virginia Beach, VA 23456
Phone: (757) 943-3060
Fax: (757) 943-3061
View map and get directions.
Hours
Monday 6:30 am – 7 pm
Tuesday 8 am – 7 pm
Wednesday 6:30 am – 7 pm
Thursday 6:30 am – 7 pm
Friday 6:30 am – 5 pm
Hours may vary depending on staffing. Please call to confirm.
In Motion at Redmill, located at Red Mill Landing at the intersection of General Booth Boulevard and Nimmo Parkway, introduces a new state-of-the-art facility with physical therapy programs designed to help you reach your highest potential. Our expert team provides individualized attention and care, customized to meet your needs.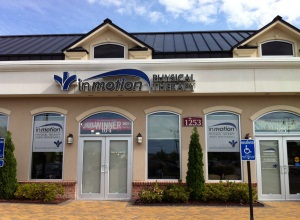 Additional physical therapies or special programs
Certified McKenzie Therapy – Specializing in Spine Dysfunctions
General Orthopedic Rehab for Pediatrics, Adults, and Geriatrics
Sports Rehab
Direct Access
In Motion physical therapy is now offering Direct Access. Our Direct Access program allows certified physical therapists in Virginia to evaluate and treat anyone with an injury without the necessity of a referral from a physician. For more information regarding direct access please click here.
Insurance Information
We accept most insurance plans and HMO's. Please call to find out if our practice is a provider of your insurance plan. For your convenience, we will be happy to file your insurance claim.
Save time and organize your important health information before you arrive. For your convenience, we provide basic forms, please complete them before your visit and bring them with you to your first appointment.
Staff
Britni Maher, DPT, MTC, CMTPT
Clinical Coordinator, Physical Therapist
Andrew Naas, PT, OCS, MTC
Physical Therapist