Lee Beasley, MSPT, OCS, GTS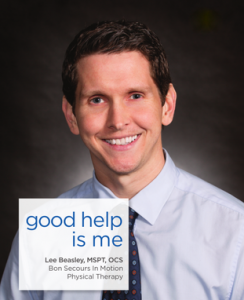 Clinical Coordinator at Chilled Ponds, Physical Therapist, MSPT, OCS
Areas of Specialization: Although practicing as a physical therapist since 2003, Lee earned a board certification as on orthopaedic clinical specialist (OCS) in 2012. This title is awarded following rigorous clinical experience requirements, as well as by passing a comprehensive examination covering the latest and most clinically relevant information specific to orthopaedic physical therapy.
He has a background in sports and athletic injury rehabilitation, has trained in various effective joint mobilization techniques of the extremities and spine, and is experienced in the treatment of most common post and non-operative musculoskeletal disorders.
Masters Degree in Physical Therapy from Northeastern University in Boston, MA
Board Certified Orthopaedic Clinical Specialist (OCS)
Graston® Therapy Certified Specialist for instrument-assisted soft tissue mobilization
Lee hails from New Jersey originally, where he began practicing in 2003 in a busy sports medicine and orthopedic physical therapy practice. His development as a therapist has always emphasized a strong foundation in manual therapy techniques. At his current location in Chilled Ponds, Lee is able to combine those strengths with his love for sports in order to treat a diverse population affected by everything from every day aches to high level sports injuries.