The Benefits of Joining an Adult Sports League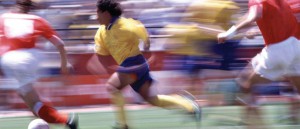 Studies show that regular exercise helps improve everyone's quality of life. Sports offer a beautiful blend of recreation and physical activity that makes exercise enjoyable. And sports just aren't for kids anymore. As more and more adults are becoming (and staying) active, there has been a surge in the number of adults sports leagues available to those looking for a heart-pounding workout with a side of grown-up competition.
So why are these adults sports teams becoming so popular? There are numerous health and social benefits to sports, including:
Sports are an effective way for people of all ages to exercise without feeling like they are working too much.
Exercise is a great outlet for stress-relief.
Physical activity can increase general health, reduce risk for heart disease and strengthen muscles and bones.
Sporting events can be an effective way to meet new people and make new friends, while getting in some exercise.
See below for some adults sports opportunities in the area:
+ Learn about Adult Kickball Leagues in Hampton Roads!
+ Browse the selection of adult sports teams in Chesapeake.
+ Join the Williamsburg Lacrosse League.
+ Learn more about the Tidewater Sports & Social Club, which offers softball, flag football, and Wiffleball games!