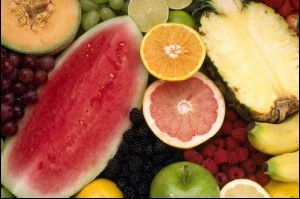 Lower blood pressure and cholesterol. Weight loss. Smaller waistline. Those are just a few of the benefits of eating more fruits and vegetables.
Now, researchers say people are less likely to have a stroke the more they eat these pieces of nature's candy.
A new analysis of 20 studies conducted in Europe, Asia and the United States found that people lowered their stroke risk by 32 percent for every 200 grams of fruit they ate daily. The risk dropped by 11 percent for every 200 grams of vegetables they ate each day, according to the study published in the American Heart Association's journal Stroke.
"Improving diet and lifestyle is critical for heart and stroke risk reduction in the general population," said Dr. Yan Qu,  the study's senior author, director of the intensive care unit at Qingdao Municipal Hospital and professor at the Medical College of Qingdao University in Qingdao, China. "In particular, a diet rich in fruits and vegetables is highly recommended because it meets micronutrient and macronutrient and fiber requirements without adding substantially to overall energy requirements."
Stroke is the fourth leading cause of death in the United States. It is also a leading cause of disability. Many people who have strokes often have problems with balance and falling. Health authorities designate May as American Stroke Month to raise awareness and to help prevent the disease.
Researchers combined the results of six studies from the U.S., eight from Europe and six from Asia. The studies demonstrated that eating a lot of fruits and vegetables can lower blood pressure, improve microvascular function, improve body mass index, waist circumference, cholesterol, inflammation and oxidative stress.
The American Heart Association recommends adults eat four to five servings each of fruits and vegetables daily, based on a 2,000 calorie diet. By eating a diet rich in a variety of colors and types, people are able to get important nutrients including vitamins, minerals and dietary fiber. They are also low in saturated fat.
Source: American Heart Association
+ Learn how to choose healthy foods for you and your family through our nutrition programs at Bon Secours In Motion.
+ Read about the Bon Secours In Motion Vestibular Rehabilitation Program. Physical therapists can help clients improve their symptoms of dizziness while increasing mobility and balance. This rehabilitation helps to retrain the body when stroke, brain trauma, inner ear surgery or chronic disease like multiple sclerosis or Parkinson's affects the vestibular system.