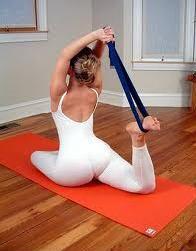 Renowned for its ability to improve balance and decrease stress, yoga apparently benefits breast cancer survivors by reducing fatigue and inflammation, according to a new study.
In fact, researchers found that the more the women practiced yoga regularly, the better their results, a news release from Ohio State University states.
"This showed that modest yoga practice over a period of several months could have substantial benefits for breast cancer survivors," said Janice Kiecolt-Glaser, lead author of the study and professor of psychiatry and psychology at Ohio State University.
"We also think the results could easily generalize to other groups of people who have issues with fatigue and inflammation."
Researchers recruited 200 women for their study. All of them had completed breast cancer treatments before the start of the study. Only yoga novices were recruited, the news release states.
After doing yoga for three months, the results showed that on average, fatigue was 57 percent lower in women and their inflammation was cut by about 20 percent compared to breast cancer survivors not doing yoga.
Researchers said they focused on breast cancer survivors because the treatment affects their ability to exercise.
"The treatment is so debilitating and they are so tired, and the less you do physically, the less you're able to do," Kiecolt-Glaser said. "That's one reason we think there are higher levels of inflammation in cancer survivors, meaning that an intervention that reduces inflammation could potentially be very beneficial."
Chronic inflammation is linked to several health problems including:
coronary heart disease,
and Alzheimer's disease.
Women in the study who practiced yoga also reported sleeping better.
"Yoga has many parts to it – meditation, breathing, stretching and strengthening," Kiecolt-Glaser said. "We think the breathing and meditation components were really important in terms of some of the changes we were seeing."
Six months into the study, the women who did yoga continued to see health benefits: fatigue was 57 percent lower and inflammation was up to 20 percent lower compared to women not practicing yoga.
Sleep may play an important role in the numbers.
"We think improved sleep could be part of the mechanism of what we were seeing. When women were sleeping better, inflammation could have been lowered by that," Kiecolt-Glaser said. "Reducing fatigue enables women to engage in other activities over time. So yoga may have offered a variety of benefits in addition to the yoga exercises themselves."
Source: Ohio State University news release
+ Learn about the breast cancer rehabilitation program at Bon Secours In Motion.
+ Many cancer patients are turning to physical therapy to help improve their health. Read more about the physical therapy programs offered at Bon Secours In Motion Physical Therapy and Sports Performance.