In Motion at Mary Immaculate Hospital, Newport News
In Motion at Mary Immaculate
Bon Secours Mary Immaculate Hospital
2 Bernardine Dr
Health Resource Center
Newport News, VA 23602
Phone: (757) 886-6480
Fax: (757) 886-6077
View map and get directions.
Hours
Monday – Thursday: 7 am to 7 pm
Friday: 7 am to 4:30 pm
Centrally located on the Mary Immaculate Hospital campus in Newport News, In Motion Physical Therapy is housed in the Community Health Education building opposite of the hospital's north entrance. Follow the signs for Visitors Parking Lot.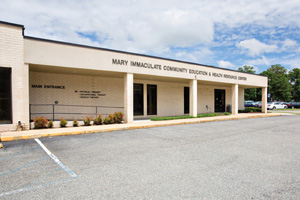 Additional physical therapies or special programs
Functional Capacity Exams
Manual Therapy
Neuro and Stroke Specialty Rehab
PRI Postural Restoration
Sports Rehab
Temporomandibular Disorders (TMD)
Total Joint Rehab
Vestibular
Direct Access
In Motion physical therapy is now offering Direct Access. Our Direct Access program allows certified physical therapists in Virginia to evaluate and treat anyone with an injury without the necessity of a referral from a physician. For more information regarding direct access please click here.
Insurance Information
We accept most insurance plans and HMO's. Please call to find out if our practice is a provider of your insurance plan. For your convenience, we will be happy to file your insurance claim.
Save time and organize your important health information before you arrive. For your convenience, we provide basic forms, please complete them before your visit and bring them with you to your first appointment.
Success Stories
"Thanks for your energy-producing exercises." Read more
"You alll are a fabulous group of therapist. I came here with  pain & discomfort, on my last day today I am leaving with NO PAIN!! I am able to do my job as a without the pain & discomfort I came in with. Thank you so much."  Judy
"The environment of this facility is totally awesome. The staff is some of the nicest people you will ever meet. I recommend this physical therapy facility to anyone that wants to get healed from their ailments!!"  EG
"Thanks for your energy producing exercises. Thanks for the relaxed mental attitudes that made sweating worth while. So say who you are, Stay Patient – oriented, professional and keep the humor going. Your demeanor, warm, friendly and relaxing makes enduring some pain worth the while."  Frank
"Stacye was very professional, highly skilled and dedicated to her work. She motivated and trained me to work on my own between sessions and to continue after my discharge. As you are aware, a full knee replacement take many months to reach a full recovery, so I will continue with what I learned from Stayce for quite some time."  John
Staff
Jillian Howe, MS, CCC-SLP
Program Manager
Marna Adsit, DPT
Clinical Coordinator
Christina Cornick
Occupational Therapy
Steve Cox, PT, DPT, CEA
Physical Therapist
Austin Stowe, PTA
Physical Therapist Assistant
Anette Brinkley, PT
Physical Therapist
Patricia Calkins, PTA
Physical Therapy Assistant
Lauren Sharpe-Payne, MS, CCC-SLP
Speech-Language Pathologist