In Motion at Portsmouth Boulevard, Portsmouth
In Motion at Portsmouth Boulevard is a department of Maryview Medical Center
In Motion at Portsmouth Boulevard
5553 Portsmouth Blvd
Portsmouth, VA 23701
Phone: (757) 465-7906
Fax: (757) 465-8451
View map and get directions.
Hours
Monday – Friday: 7:30 am – 6:30 pm
Closed Saturdays and Sundays
Convenient before and after work or school appointments.
Located on Portsmouth Boulevard, this outpatient physical therapy site is centrally located on one of the city's busiest traffic corridors. It offers a wide range of physical therapy programs, delivered by experienced, qualified staff – expert physical and occupational therapists with additional certifications in specialized therapies.
In Motion at Portsmouth Boulevard operates as a department of Maryview Medical Center.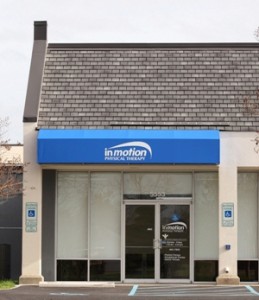 Additional physical therapies or special programs
Chronic Pain Management
Cupping
Power Chair Evaluations
Sports Physical Therapy
Visual Field Impairment (OT)
Women's & Men's Health

Pelvic Floor Disorders
Incontinence Therapy
Bio Feedback
Direct Access
In Motion physical therapy is now offering Direct Access. Our Direct Access program allows certified physical therapists in Virginia to evaluate and treat anyone with an injury without the necessity of a referral from a physician. For more information regarding direct access please click here.
Insurance Information
We accept most insurance plans and HMO's. Please call to find out if our practice is a provider of your insurance plan. For your convenience, we will be happy to file your insurance claim.
Save time and organize your important health information before you arrive. For your convenience, we provide basic forms, please complete them before your visit and bring them with you to your first appointment.
Staff
Rachel Everett, DPT
Rehab Manager, Physical Therapist
Lauren Zapf , DPT
Clinical Coordinator, Physical Therapist
Anne Ashe, MHS, OTR/L
Occupational Therapist
Christine Grogg, COTA/L, MLD
Occupational Therapy Assistant
Daria Zlotnick, M.S., CF-SLIP
Speech-Language Pathologist
Stephen Blankenship, PT, DPT, OCS, ATC, CMTPT, LSVT
Physical Therapist
Coreen Lee, MPT
Physical Therapist
Thienphuc My Le, DPT
Physical Therapist
Brianna Hudgins King, DPT
Physical Therapist
Valerie Courville, LPTA
Physical Therapy Assistant
Laura Behrens, LPTA
Physical Therapy Assistant
Martha Godfrey, ATC
Athletic Trainer
Thienphuc Le, DPT
Physical Therapist
Elizabeth Tenzer, LPTA
Physical Therapy Assistant