Stress and Weight Gain May Be Family Affair, New Study Finds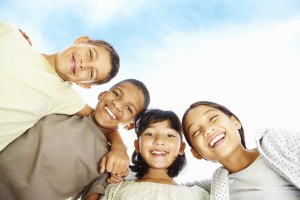 Stress can lead to weight gain. For parents who are stressed, it may also cause their children to gain weight, a new study suggests.
Indeed, Latino children whose parents feel high levels of stress are twice as likely to be obese, according to new research recently presented at the Obesity Society's annual meeting.
Additionally, the more stress parents experience, the more likely their children are to become obese. Researchers examined data from the Study of Latino Youth, which was funded by the National Heart, Lung and Blood Institute of National Institutes of Health to determine the relationship between parental stress and children's weight status in the Latino population.
Previous research has shown that stress is associated with obesity in adults. Now, data suggests that stress may affect other people in the family, too.
"This study is among the first of its kind to show that parental stress is a risk factor for childhood obesity among Latinos, and adds to the understanding of family influences on child weight status," study leader Carmen Isasi, MD, PhD, from Albert Einstein College of Medicine in New York, in a news release. The research is considered preliminary because the findings have not been published in a peer-reviewed journal.
While obesity is a health issue nationwide, racial and ethnic disparities in obesity exist, according to data published by The State of Obesity – a project of the Trust for American's Health and the Robert Wood Johnson Foundation. Obesity rates were highest among black adults (47.8 percent), followed by Latino (42.5 percent) and white (32.6 percent) adults in 2011-12, according to recent statistics. Obesity was lowest among Asian-American adults (10.8 percent).
The inequities persist among children, too. Latino children had the highest rates of obesity with 22.5 percent. About 20 percent of black children, 14 percent of white children and 7 percent of Asian-American children were considered obese in 2011-2012.
Some of the stress factors for parents in the study included having problems at work or trouble in a relationship. The likelihood of a child becoming obese increased with the number of stress-related issues that parents experienced. Parents who had three or more chronic stressors were twice as likely to have children with obesity than parents who experienced no stress.
"Obesity and chronic stress were both prevalent among this Latino population, with more than one-quarter (28 percent) of children ages 8 to 16 with obesity, and nearly one-third (29 percent) of their parents reporting high levels of stress," Dr. Isasi said. The families in the study lived in New York City, Chicago, Miami and San Diego.
Researchers called for medical professionals to consider high stress levels in their patients as a warning sign that not only could an adult develop obesity from stress, but other people in that patient's family are at risk, too.
"…Special attention should be paid to adult patients who report experiencing high stress levels in this population, and providers are encouraged to consider behavioral counseling as one measure for obesity prevention and treatments," said Margarita Teran-Garcia, a member of The Obesity Society in the news release.
Researchers said more study is needed to examine the causes and possible preventive strategies as well as whether parental stress affects children's obesity in other populations.
Sources: The State of Obesity, The Obesity Society news release
+ Does a child in your life need help losing weight? Read about the youth fitness program at Bon Secours In Motion, which includes nutrition education.
+ Learn about the individualized weight loss programs at Bon Secours Weight Loss Institute. Take an online quiz to determine your body mass index and find the right program for your weight loss goals.