In Motion at Boo Williams Sportsplex, Hampton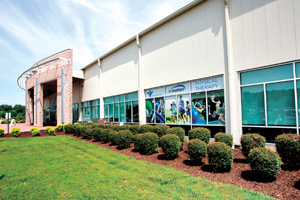 In Motion at Boo Williams Sportsplex
Boo Williams Sportsplex
5 Armistead Pointe Parkway,
Hampton, Virginia 23666
Phone: (757) 224-4601
Fax: (757) 224-4618
View map and get directions
Hours
Monday-Thursday: 7:30 am to 7 pm
Friday: 7:30 am to 4 pm
Appointments available within 24-48 hours.
In Motion Physical Therapy at Boo Williams Sportsplex operates as a department of Mary Immaculate Hospital. In Motion Physical Therapy provides a select range of physical therapy and sports rehab programs, delivered by medically directed, experienced staff. We offer appointments within 48 hours.
Programs
General Orthopedic Rehabilitation for Children, Adults, and Seniors
Sports Rehab
Success Stories
"Love that you offer alternative therapy options in addition to traditional physical therapy . I have mixed emotions at graduation. I'm glad to have survived the "torture" but I will miss the family environment. The Sarah team and the rest of the crew make healing a happy experience. I will remember these times as the most rewarding of my long recuperation."  Stacie
"I really appreciated the wealth of information and explanations. Sarah was very supportive and patient. The customer service which is very important to me was excellent. I'm looking forward to my sessions and having a pain free 2016."  Mary
"The staff at In Motion are positive, professional and extremely patient."  Cary
"Thank you for all your help & kindness. Lauren was so patient & sweet. I feel that I am at the right place to get going again. Marina is so happy & nice. Very pleasant visit!"  Nick
"I want to thank In Motion & specifically Sarah Martin for her help &  instruction for my lower back and hip pain. When I started I was in    extreme pain & had limited mobility. Her exercises have done wonders for me. She took a genuine interest and it showed in her care and   concern. It has been a pleasure working with Sarah. I'll forever sing her praises!"
 "As a repeat customer with In Motion Physical Therapy in Hampton, Virginia, I continue to be impressed with the professionalism of the staff and with the available resources in the facility.  My lead therapist, Sarah Martin, and her team provide a family atmosphere where patients are both challenged and entertained.  I get the best care each and every visit, and Sarah makes sure that I understand what we're doing and why we're doing it at every step of my treatment.  As someone who's played football, I'm impressed by the challenge in each session and the potential to graduate to the aftercare program; like getting ready for the big game.  I wouldn't go anywhere else for my physical therapy needs."  Coach Michael Brown
"Sarah Martin, DPT: Surperior! Professional to the 9th degree, charismatic, sympathetic, motivates patients full cooperation to attain PT goal with her energy and enthusiasm…"  Read more
Direct Access
In Motion physical therapy is now offering Direct Access. Our Direct Access program allows certified physical therapists in Virginia to evaluate and treat anyone with an injury without the necessity of a referral from a physician. For more information regarding direct access please click here.
Insurance Information
We accept most insurance plans and HMO's. Please call to find out if our practice is a provider of your insurance plan. For your convenience, we will be happy to file your insurance claim.
Save time and organize your important health information before you arrive. For your convenience, we provide basic forms, please complete them before your visit and bring them with you to your first appointment.
Staff
Our team of clinician/athletes customizes and adapts protocols to individual needs. Trust them to improve your game and keep you playing strong and healthy at every age.
Certified Athletic Trainers
Certified Strength & Conditioning specialists
Certified Physical Therapists and Licensed Physical Therapist Assistants
Registered Dietitian Sports Nutritionist
Jillian Howe, MS CCC-SLP
Program Manager
Sarah Martin, DPT
Clinical Coordinator, Physical Therapist
Lauren Sabatini, DPT
Physical Therapist
Susan Cattenhead, OT, CHT
Occupational Therapist and Certified Hand Therapist
Aaron McKissick, MS, CSCS, PES, CES, USAW
Sports Performance Coordinator
Michael Sullivan, LMT, RYT 200
Massage Therapist
Joann Knight, CMT
Massage Therapist
Emily Giordano, MOT, OTR/L
Occupational Therapist